George Tice




Please click here to go to his newest page on our site: George Tice at 80.


George Tice is one of the best known fine-art photographers in the nation and has authored 18 books. He has been making photographs for over 50 years. His prints are in many museums including the Museum of Modern Art, the Art Institute of Chicago and the Metropolitan Museum, where he had a one-man show in 1972. The Afterimage Gallery has handled his work over 30 years.
Mr. Tice was born in 1938 in New Jersey where he still lives. His first museum sale was to the Museum of Modern Art in 1959. He has received fellowships from both the Guggenheim Foundation and the National Endowment for the Arts. His photographs have been shown all over the world.
Click here to view George Tice's price list. Click here to see his 20 x 24 inch platinum/palladium prints.



---
(Click your mouse on the images below to enlarge them.)


From the Chrysler Building,
New York, 1978






Porch, Monhegan
Island, Maine, 1971






Two Amish Boys,
Lancaster, Pennsylvania, 1961






Amish Children Playing in Snow,
Lancaster, Pennsylvania, 1969






Shaker Interior,
Sabbathday Lake, Maine, 1971






Oak Tree,
Holmdel, New Jersey, 1970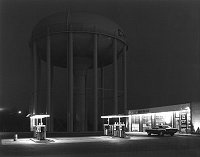 Petit's Mobil Station,
Cherry Hill, New Jersey, 1974
CONTINUED ON NEXT PAGE.

GO TO TICE'S AMISH WORK

RETURN TO CONTENTS PAGE
HOW TO PURCHASE